Texas EV Incentives & Owner's Guide
Drive savings into your pocket with our electricity plans built for EVs.

EV incentives in Texas
You've probably noticed more electric vehicles (EVs) on the roads these days. Many Texans are making the switch to electric as new models are released and EV incentives and rebates become available. Not only are these new cars good for the environment, they're also good for your wallet.
The state and federal governments offer tax credits for EV charger hardware and installation costs on level 2 charging, plus you can take advantage of tax credits for simply owning a qualified EV. You can learn more Texas electric vehicle incentives on the US Department of Energy site.
Fuel cost is an additional factor in your EV decision – you could save more than $4,000 over 5 years by owning an EV over a traditional gas-powered car.1 Interested in a specific make and model? Use this tool to compare fuel cost savings across a variety of vehicles.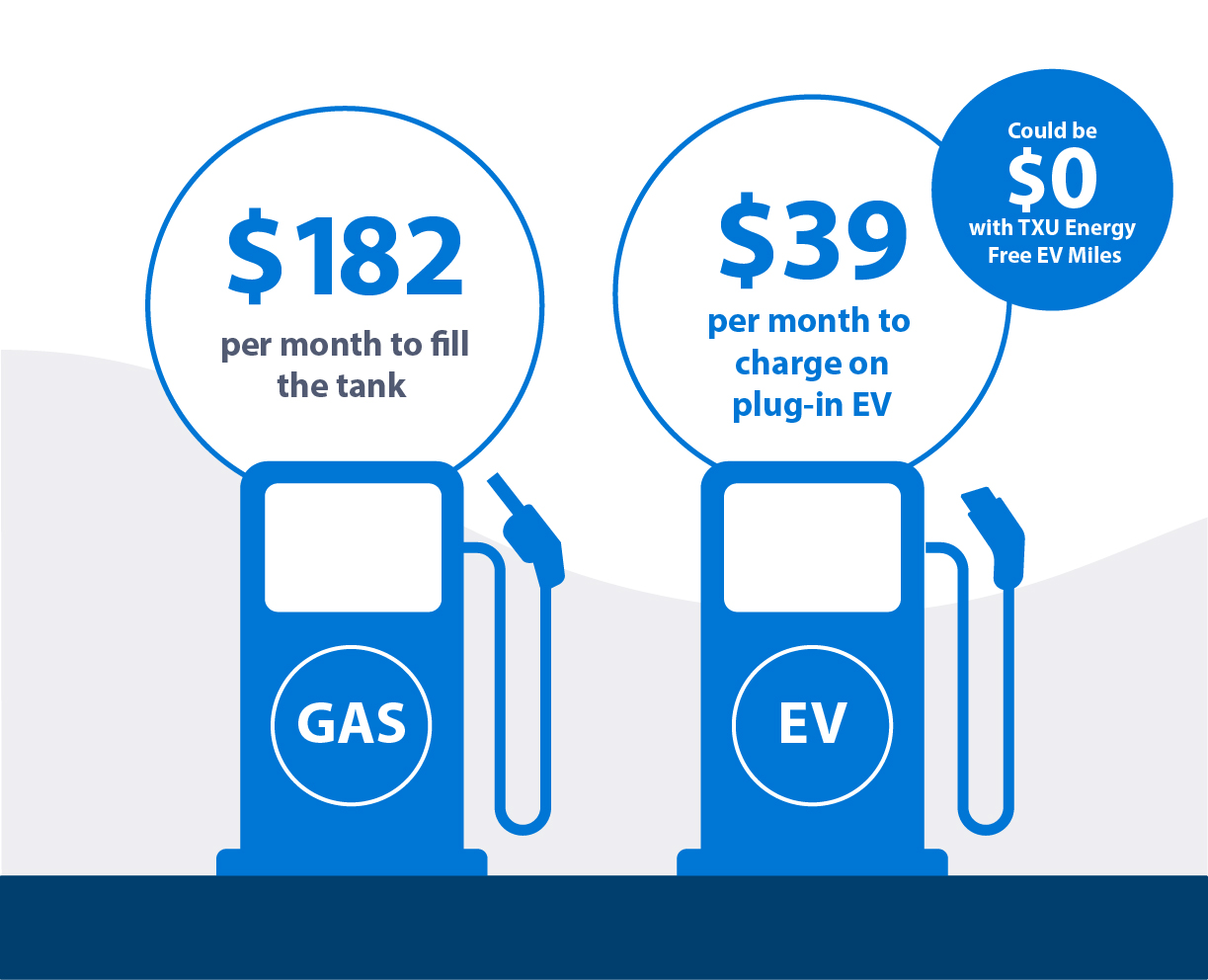 At-home electric car charging options
Level 1 charging
Using a level 1 charger is the simplest way to power up at home because it plugs into a standard 120-volt electrical wall outlet.
Works with any standard 120-volt outlet

Suitable for EV owners who drive less than 30-40 miles a day (this can vary)

Great for plug-in hybrids, as the smaller battery capacity doesn't take as long to charge

100% battery-powered vehicles get an average of 2-5 miles of driving out of each hour of charge

Advantage to this type of charger is that it doesn't require any investment home upgrades
Level 2 charging
A level 2 charger is a charging cable that connects to a 240-volt wall outlet (like your electric clothes dryer) which
Best for getting the full benefits and flexibility out of your car

Can fully charge depleted batteries in 5-15 hours (depending on the amperage of the charger) or 20-40 miles per hour of charging2

May need an electrician to install a 240-volt outlet in your garage

Some vehicles come with a level 2 charging cable onboard. For others, you'll need to buy additional hardware to support this type of charging
Should you upgrade to a level 2 charger?
If you own or are considering a plug-in hybrid, level 1 charging will work just fine, but you'll need to consider your driving range and how much time you have for charging each day. For 100% battery-powered vehicles, level 2 is a quicker way to fully charge your battery, but it does still take several hours to fully charge.
If your vehicle comes with a level 2 charger, you're already ahead of the game – you'll just need to plug in to a 240-volt outlet (electrical upgrades may be required). And if you want to reduce your charge time even more or your car doesn't come with a level 2 charger onboard, you'll need to install a dedicated EV charging solution in your garage. The advantage here is that you can choose a charging solution that has a higher amperage output, which will reduce your total charge time.
It's always a good idea to have an expert inspect your home setup to make sure you have the capacity to support your upgrades.
Public charging options
Find a charging station near you.
DC (Direct Current) Fast charging – DC Fast charging stations now provide multiple connector options in order to service as many EVs as possible. These can charge your car in about 15 minutes.
Level 2 charging – Have a couple hours to spare? Public charging stations are equipped with Level 2 charging for times when you're out running errands or at work.
Drive free with Free EV Miles
Your home charging is 100% free 7 p.m. - 1 p.m. and 100% renewable all day, every day. Learn more about how you can save with our EV electricity plan options.
1 EV estimate based on driving avg. 15,000 miles each year and avg. electricity cost of $0.12 cents/kWh. Gasoline cost estimate based on avg. $2.77/gal.
Based on data from https://fueleconomy.gov and the Department of Energy.
2 Alternative Fuels Data Center https://afdc.energy.gov/fuels/electricity_infrastructure.html
3 This plan provides a 100% discount off of Energy Charges and TDU Delivery Charges for electric vehicle (EV) charging that occurs at the Service Address between the hours of 7:00 p.m. to 1:00 p.m. every day of the week. Any EV charging that occurs at the Service Address outside the hours of 7:00 p.m. and 1:00 p.m. will be billed the full per kWh Energy Charge and TDU Delivery Charge. The discount for charging your EV is determined using your EV's telematics data. To receive the free energy credits, you must enroll your EV on our telematics connection platform and authorize TXU Energy to access your EV's telematics data. If you do not enroll your EV on our telematics connection platform, you will not receive a free energy credits for charging your EV. You must provide a valid email address to enroll on this plan.

TXU Energy will not share your telematics data and will use it only to determine your free energy credits EV charging. After enrolling your EV on our telematics connection platform, you may withdraw your authorization for TXU Energy to access your telematics data at any time; however, if you do so you will no longer be eligible to receive free energy credits for charging your EV.

Some electric vehicle models are not supported by the telematics platform - please see txu.com/freeevmiles/faqs for a current list of eligible models.