Moving to the Dallas-Fort Worth Metroplex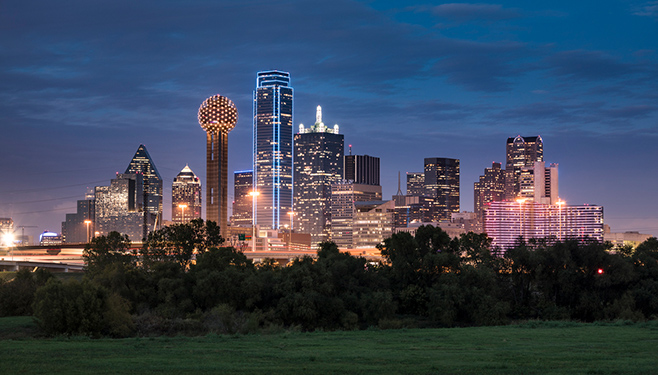 If you're thinking about moving to Dallas-Fort Worth, you're not alone. The booming Dallas-area economy lures thousands of new people each year. Dallas-Fort Worth is one of the fastest growing metro areas in the U.S., with nearly 250 new residents arriving every day.1
Whether you're already a Texan looking for adventures in the big city or you've never been to the Lone Star State, relocating to Dallas-Fort Worth offers many exciting opportunities. The Metroplex is known for its world-class events, museums, and attractions, as well as a large assortment of eclectic neighborhoods. Here are some pointers for choosing the right neighborhood for your lifestyle – and discovering what to do in Dallas-Fort Worth when you arrive.
Fun Things to Do in Dallas
Affectionately called Big D, the heart of Dallas is filled with fun places to visit such as the Dallas Museum of Art, the Nasher Sculpture Center, and the Dallas Farmers Market to name a few. These attractions aren't just for tourists; they're popular destinations for locals as well.
Dallas's slogan, "Big Things Happen Here," is true. Fair Park hosts the State Fair of Texas and the Independence Day Festival, but you can always enjoy the Dallas Summer Musicals and multiple museums on the fairgrounds. The American Airlines Center is a premier venue that hosts Dallas Mavericks basketball and Dallas Stars hockey games as well as concerts with leading national artists.
What to Do in Dallas With Kids
No matter their ages, kids delight in the Dallas Zoo, the biggest zoo in the Lone Star State. Families love exploring the Texas Skywalk to get a birds-eye view of what it's like to live in the treetops at the Rory Meyers Children's Adventure Garden in the Dallas Arboretum and Botanical Garden. And the gargantuan dinosaur fossils at the Perot Museum of Nature and Science mesmerize junior nature lovers and scientists.
Klyde Warren Park is a great free place to spend a sunny afternoon with kids. It connects the downtown Dallas core to the arts district. The child-sized amphitheater, storytelling tree, water park, and whimsical caterpillar fountain are hits with young children.
Moving to Dallas
If you're looking for the best neighborhoods in Dallas, you'll have plenty to choose from. It helps to know a bit about different Dallas districts before you start your home or apartment search.
Downtown Dallas features the famous Arts District and many other attractions for urban dwellers. Downtown wasn't always known for its liveliness, but recently, investors have transformed vacant buildings into thriving mixed-use developments.
East Dallas is known for its laid-back lifestyle, cultural diversity, and abundant trees. It comprises established communities such as Lakewood and Lake Highlands, and it's close to White Rock Lake and the Dallas Arboretum.
South Dallas is home to the Bishop Arts District as well as Fair Park and Old City Park, both of which are popular event locations. It's also where you'll find Great Trinity Forest, a stunning 6000-acre city park.
North Dallas is home to sprawling estates, high-end real estate, and upscale shopping and dining. This area is known for having the best Dallas school districts.
What to do in Fort Worth
Fort Worth doesn't get the attention it deserves because of its proximity to Dallas. But the city is growing quickly thanks to its strong economy and friendly, laid-back atmosphere. It's the 13th largest city in the U.S., bigger than Atlanta, Boston, and Denver.
Moving to Fort Worth, Texas, is like stepping into the Old West but with a host of modern amenities. Whimsically nicknamed "Cowtown," this sprawling city blends its frontier heritage seamlessly with growing industries and a diverse culture.
More than just a venue for show cattle, the Fort Worth Stockyards are iconic. Every year, it hosts numerous events, concerts and festivals that are fun for the whole family. This area is also home to the famous Billy Bob's Texas, "The World's Largest Honky Tonk." With rodeos, cattle drives, and year-round historical tours, the fun never stops.
With more than 5,000 animals and 64 acres of exhibits, the Fort Worth Zoo is fun for animal lovers of all ages. Sundance Square, a 35-block area of entertainment in downtown Fort Worth, features nightclubs, theaters, shops, and concerts. If you're a lover of the arts, check out the Kimbell Art Museum, one of the nation's best museums. For a sophisticated night out, the Bass Performance Hall offers world-class performances.
Fort Worth abounds in livable, family-friendly neighborhoods, such as TCU-West Cliff, Arlington Heights, Far Southwest, and Far North. Downtown and Near Southside attract young professionals with an assortment of boutiques, distilleries, breweries, bistros, and nightclubs within walking distance of apartments and houses.
Features of Living in Dallas-Fort Worth
Job Growth
Recently, Dallas-Fort Worth has led the nation in job growth, outpacing New York and Houston. Dallas is home to more than 100,000 companies and 1,500 corporate headquarters, including Exxon Mobil, AT&T, Charles Schwab, American Airlines, Southwest Airlines, and Liberty Mutual. And other Fortune 500 companies are relocating to Dallas, including McKesson and Core-Mark. Dallas ranks third in the U.S. for highest salaries.
Affordable Cost of Living
If you're coming from another big city, the Dallas, Texas, cost of living may cause you to celebrate. Dallas and Fort Worth rank 49 and 50 for cost of living in the U.S. That means rent, groceries, and restaurants are more affordable than in many other large cities, including New York, Chicago, Denver, Cleveland, and Kansas City. The median home value in the Dallas-Fort Worth area is on the rise, but residents still get a lot more house for their money than people in many other large cities.
No State Income Tax
Texas is one of seven states without a personal state income tax. That means you'll save money on your taxes every April. But there's a tradeoff: You may pay higher sales and property taxes than you would in other states.
Electricity Choice
If you're moving from out-of-state, you might be surprised at how much of a workout your air conditioner gets during the hot Texas summers. With lots of high heat days per year and a sizeable average home square footage, electricity usage is often higher in Texas than many other states. Fortunately, the Lone Star State has a free electricity market, which means you have the power to choose the best electric plan for your needs. No matter where you choose to live in the Dallas area, finding the right electricity provider is important.
At TXU Energy, we're proud to be the number one choice for electricity in Texas. We make it easy to set up and manage your account online or by phone, and you can count on our simple, straightforward pricing. We also have superior home protection offers that allows you to protect some of the most critical items in your home including your electronics, appliances, air conditioning and heating unit. Check out our electricity plans and rates.
Welcome to the Metroplex!
Whether you're coming from a short or long distance, our goal is to make your move easier. Visit the TXU Energy Move Center to find our best moving tips. And don't miss our handy moving checklist, which will help you know when to pack and when to call moving services or rent a moving storage container. Good luck with your move! Before you know it, you'll be enjoying all that Dallas-Fort Worth and North Texas have to offer.