Cinemark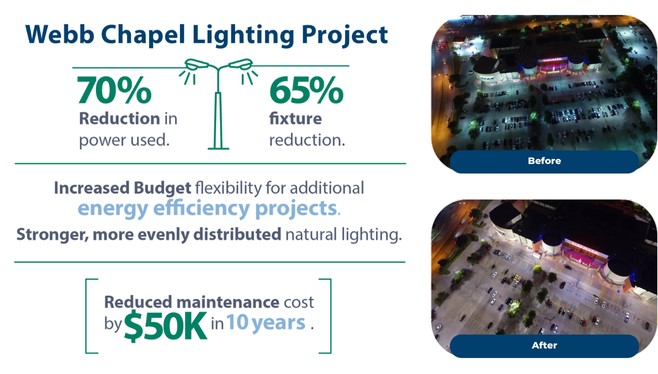 Cinemark Partners with TXU Energy for Webb Chapel Lighting Project
Cinemark set out to make 1,100 spaces in its parking lot brighter, thereby safer and more welcoming for customers. Vice President of Energy and Sustainability, Art Justice, also knew that replacing traditional bulbs with energy-efficient fixtures would lead to ongoing savings. Cinemark turned to TXU Energy, which was ready with a solution – and monetary support. Through TXU GreenBack Rebates, Cinemark received funding for half of the project to install LEDs in the four-acre lot. TXU GreenBacks gives customers cash incentives for implementing energy-efficient upgrades in their facilities.
TXU Energy also managed project logistics with the local TDU and expedited the approval process. The agreement, installation and rebate approval for the project took just 2 months. By making simple, environmentally-responsible changes, Cinemark earned money for its upgrades and met its goal to provide a better customer experience.
See more of Cinemark's story here.