Why You Should Move to Texas: Top 10 Reasons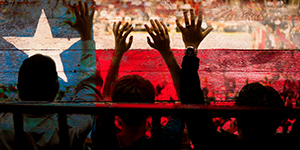 It's one of the nation's most beautiful and diverse states. From the food, the people, the activities and quality of life, Texas has it all. If you're moving here—Welcome! We've got a few tips to help you settle in. Before you shop for your electricity plan, take a quick look at these helpful hints.
Moving to Lubbock? Electricity choice is headed there soon. Sign up to be there first in line for special offers.
#1 We're a friendly bunch.
After all, the name 'Texas' comes from the Hasinai Indian word táysha', which means "friends." Texans are naturally gracious and welcoming, so get acquainted with your neighbors and involved in the local scene early on. Long-time residents have the best tips for the area that no guide can offer.
#2 Six Flags is more than a theme park — it's part of Texas heritage.
Through the years, six different flags have flown over Texas, including those from Spain, France and Mexico plus its own Republic of Texas banner, the Confederate flag and our nation's flag. All these cultural, ethnic and social influences have given Texas its unique flavor. Texas remains a diverse state to this day.
#3 The Lone Star State has some of the best food in the country.
This list wouldn't be complete without the food. And whether you like BBQ, Tex-Mex, farm fresh vegetables or steak, you'll find a wide range of mouth-watering delights in Texas. Being cattle country, Texans like their beef. But don't forget Texas has a coastline too, so we also serve up some of the best seafood. Savor the culture!
#4 We've got the nation's largest rose garden.
The yellow rose of Texas? It's at The Tyler Municipal Rose Garden — along with some 38,000 rose bushes representing 500 varieties of roses, set in a 14-acre park. The garden is open year-round, but it's especially beautiful during the annual Texas Rose Festival held every October.
#5 Texas' technology is cutting edge.
Texas is home to many high-tech companies, including Dell, AT&T and Texas Instruments to name a few.
#6 Austin is the live music capital of the world.
From jazz and blues to country and western — and even classical and opera — there's so much to please your ears. Austin just might have more shows than anywhere else on the planet.
#7 One of the largest Native American populations in the U.S. is here.
You'll have lots of opportunities to learn about Native American culture and history up-close after moving to Texas. Some things to know:
Texas has had 12 different Native American tribes.
After Europeans arrived in the New World, five different tribes were driven into Texas.
Today, there are three federally-recognized tribes in Texas: the Alabama-Coushatta Tribe, the Kickapoo Traditional Tribe and the Ysleta del Sur Pueblo Tribe of Texas.
A number of museums pay tribute to Native American cultures and arts throughout the year all over Texas.
#8 We're big sports Fans.
Everyone knows Texans love their football, but Texas also has more than its fair share of professional sports teams, including the Dallas Cowboys, Dallas Mavericks, Dallas Stars, Houston Astros, Houston Comets, Houston Rockets, Houston Texans, San Antonio Spurs and Texas Rangers.
#9 Texas has the biggest state fair in the U.S.
The State Fair of Texas is held annually in Dallas for 24 days, beginning with the last Friday in September, and it's a must-see. Smaller fairs also come to towns all over the state. The Heart o' Texas Fair and Rodeo in Waco brings top musicians to the mid-size city, and flocks of crowds come out to hear the music, ride the rides and watch the rodeo.
#10 More Texans choose TXU Energy than any other electricity provider.
From our straightforward pricing, reliable 24/7 customer service and satisfaction guarantees, you can be confident when you sign up on one of our plans. See our current offers.