Save Energy And Money With Your Smart Thermostat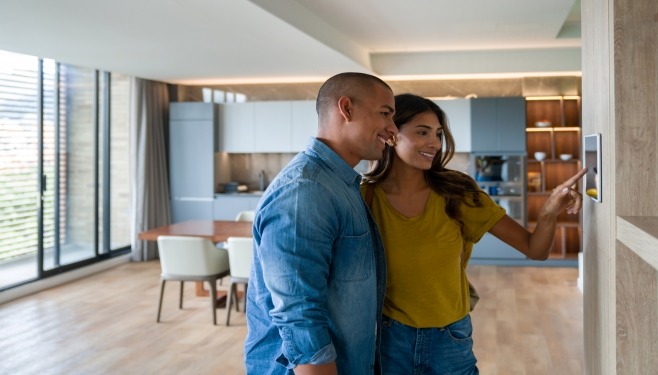 Earn a $50 reward when you sign up for Connected Conservation.
Conserving energy helps you save on your bill, and it's something we can all do to lessen the demand for electricity across the state when there's an urgent need.
Now you can automatically use less and save more by connecting your smart thermostat to TXU Energy's Connected Conservation program. When demand for electricity surges, the program will notify you of a conservation event and automatically adjust your thermostat a few degrees for a short time. It's free to join and you'll earn a $50 reward as a thanks for doing your part.†
You'll always have the power to change your thermostat manually or through your thermostat's app at any time during a conservation event.
Get started in a few easy steps.
To participate, enroll your smart thermostat using the links below.*
| | |
| --- | --- |
| | For Honeywell Home smart thermostat using the Total Connect Comfort app enroll here. |
| | For Honeywell Home smart thermostat using the Resideo – Smart Home app enroll here. |
| | If you have an Amazon smart thermostat, enroll here. |
| | If you have a Sensi smart thermostat, enroll here. |
Frequently Asked Questions
How does Connected Conservation work?
The state's grid operator ERCOT, your Transmission and Distribution Utility (TDU) or TXU Energy may make a call for conservation during a particularly hot summer afternoon or cold winter morning. We'll adjust your thermostat a few degrees from your set temperature until there's no longer an extreme need. Your thermostat will automatically go back to your previous temperature. You can override any Connected Conservation event setting if you prefer not to participate.


Am I eligible to participate in the program?
You must be a current TXU Energy customer and have a qualifying smart thermostat installed at your residential service address. You'll also need an active Wi-Fi network connection to your smart thermostat.


Which smart thermostats are eligible?
At this time, only certain Resideo and Amazon smart thermostats are compatible with our program. See all compatible models here.


I don't have a smart thermostat – can I still participate?
You'll need a qualifying smart thermostat to sign up. You can purchase one through Resideo or a third-party retailer.


Will I know when my thermostat's being adjusted?
Your app will post an alert when a conservation event starts. If you have push notifications turned on, you'll get one each time there's an event.


How do I get my $50 reward card?
You must sign up for Connected Conservation, agree to the program's Terms and Conditions and successfully connect your smart thermostat. After you've successfully connected, we'll send you a $50 prepaid card that you can use however you want. It may take up to 4 weeks to confirm your enrollment.


Can I sign up with multiple smart thermostats?
You can connect as many qualifying smart thermostats as are installed in your home. You'll only be eligible to receive one $50 reward per household, but the more thermostats you sign up, the more energy you'll conserve.


What if I have problems with my thermostat?
If you have trouble with your thermostat or have questions about installation or use, contact your thermostat manufacturer's customer support team directly.


What if I change my mind and no longer want to participate in the program?
To completely remove your thermostat(s) from the program, please reach out to us at customerconservation@vistracorp.com. We'll unenroll you from the program within 5-10 business days.

Note: TXU Energy reserves the right to cancel or modify the Connected Conservation program at any time without prior notice.
---
* TXU Energy makes no warranties. TXU Energy is not affiliated with your thermostat manufacturer or its products and services. Please check with your thermostat manufacturer for warranty information related to its products and services. To participate, you agree to the Connected Conservation program terms and conditions including the remote adjustment of your thermostat during conservation events. At any time during an event, you can override the adjustment using your app or thermostat. If you decide later you do not want to participate in the program, you can unenroll at any time.

† To qualify for the one-time $50 reward, you must enroll an eligible smart thermostat at your TXU Energy service address in the Connected Conservation program. Reward is fulfilled with a prepaid Mastercard®, subject to terms and conditions of card issuer. TXU Energy reserves the right in its sole discretion to substitute a check of equal value for the prepaid card, and to otherwise modify or cancel the program at any time. This Card is issued by Sunrise Banks N.A., Member FDIC, pursuant to a license from Mastercard International Incorporated. Mastercard is a registered trademark, and the circles design is a trademark of Mastercard International Incorporated. This card may be used everywhere Debit Mastercard is accepted. Registration, activation, acceptance, or use of this card constitutes acceptance of the terms and conditions stated in the Prepaid Card Agreement.